People often ask, "How did you do it?  How did you start from nothing and grow Insperity into a $5 billion enterprise?"  Some might think it was chance or luck.  Certainly, there were some 'right place at the right time' moments; but Insperity grew through hard work and achieved success when preparedness and opportunity met.  Every entrepreneur knows that the best enterprises grow by developing their people and empowering them to improve.
The sum of high-performing employees equals a high-performing company.  High-performing employees are most often developed, not bought.  There is a repeatable pattern: hiring the right people, providing them specific goals, reviewing their results, giving honest feedback, and involving them in an effective development process.
Personal performance goals and feedback.  Every employee should have an annual performance plan with objectives tied to company success.  Performance should be reported, progress reviewed, and honest feedback provided to encourage improvement.  Managers must be skilled at providing evaluative feedback and identifying developmental needs.
Systematic training and development.  A consistent systematic approach helps employees reach their potential while meeting operational and future strategic needs of the company.
There are two types of employee developmental needs: functional deficiencies identified in performance reviews, and career advancement preparation. Helping employees perfect their current role and qualify for future opportunities builds loyalty and commitment.
There are likewise two types of company training needs: immediate operational, and long-term strategic. Immediate training addresses current skills gaps.  Strategic training is driven by a 3- to 5-year view of competitive, technological, and other forecasted changes which will ensure future workforce readiness.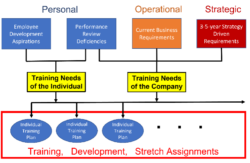 The flow of personal and company training needs into individual training plans.
Training can take many forms including internal knowledge sharing, off-site seminars, self-directed, or online classes.  Stretch assignments are excellent development activities that often reveal other valuable employee abilities.  Tuition assistance and certification bonuses may also stimulate individual growth.   Training systems need a feedback loop to review training application and effectiveness and strengthen future training.
Insperity's investment in our people results in employee achievement, commitment, and skills readiness.  Our collective readiness accelerates our innovation cycle and makes us agile when possibilities arise.  Employee performance improvement sharpens capabilities and opens the door to value creation when preparedness meets opportunity.
For more on employee performance improvement, get the book: Paul Sarvadi, (2019) Take Care of Your People, The Enlightened CEO's Guide to Business Success, ForbesBooks.